Registration
2018 Registration is OPEN!
100K and 100M Races are SOLD OUT for 2018! Sorry Man!
Enter early and you'll save a few bucks man.


Your body and mind will thank you for this weekend escape from the trappings of life, a chance to release your inner hippie and share in some peace, love and time on the trails. Come run, walk, trip and fly with us … into the mystic. -Head Goat
All race entries include post race food, race shirt and a Weekend Pass wristband (a $20 value!) Weekend Pass wristband entitles you to a weekend of rockin' music, entry into Friday 5K, Saturday night 5K/10k and Sunday morning 5 mile fun runs, Yoga, use of port o jons, hand washing station and outdoor cold showers (Yikes!)
Camping is extra but is a ton of fun!
Through 7-23-18

7-24-18 - Noon 9-5-18

9-7-18 & 9-8-18

Flower Power 5 Mile

$44
$49
$55
Hippie Half Marathon
$69
$79
$90
Mellow Marathon
$84
$99
$115
Freak 50K
$89
$104
$130
Peace, Love & 50 Miles
$99
$114
$140
100K and 100Mile have option with our without car in rest area. The "car in rest area" spots are limited so register early for this option. SOLD OUT!
Happening 100K
Without car in rest area

$129

$144

$165

With car in rest area

$144

$159

N/A

Hallucination 100 Mile
Without car in rest area

$179

$199

$225

With car in rest area

$194

$214

N/A

BACK for 2018, add on the Funky Bus 5K!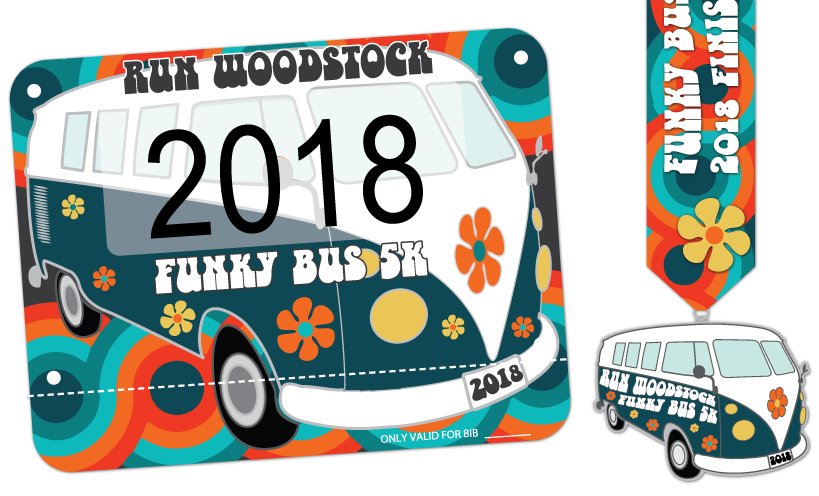 Want additional miles and swag? Join us for the Funky Bus 5K on Friday evening. $20 gets you a custom bib, timed race and a GROOVY Hippie Bus medal. There is a one hour time limit for the Funky Bus 5K. Registration for the Funky Bus 5K will close on July 27th! PEACE!
Late Registration/Packet Pick-Up

Late Registration/Packet Pick-Up is at Hell Creek Ranch, 10866 Cedar Lake Road, Pinckney, MI 48169.
- Friday, September 7 - from Noon - 9PM
- Saturday, September 8 (race morning) from 5AM until 15 minutes before each race starts.
Far Out 5K (Friday night), Feelin' Groovy 5K/10K (Saturday night) & Free Love 5 Mile (Sunday morning) are FREE with any Saturday morning race entry or purchase of Weekend Pass!
Munchies!
Friday Pizza - $2/slice
Saturday Lasagna (Veg or Meat), Salad, Roll & Cookie - $12 (Saturday meal included with any 100 mile race entry, show number)